Whitetail Deer Farms

Your deer herd can grow in numbers at our facility.


Wondering about whitetail deer farms? With our herd builder program, you can start raising whitetail deer with great genetics today!
Whitetail Deer of Texas can help you build a deer herd before you have high-fenced or even purchased your ranch.
We are a TC1 - Transfer Category 1 ranch with the highest movement qualified status recognized by TPWD - Texas Parks and Wildlife Department.

We will raise your deer, here at our facility, until you are ready to move your herd to your own ranch or breeding facility.
Time is money! With each year that passes you are missing out on a new fawn crop...whether it is single births, twin births or even triplet births - the numbers add up!
You can get a jump start on raising whitetail deer! Let us do it for you!
This could be your herd - bucks, does and fawns!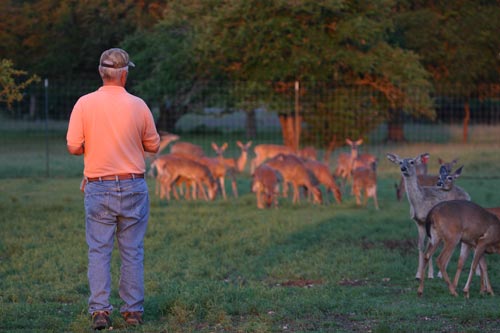 To keep our deer herds gentle, we hand feed treats once or twice a day.

Through our herd builder program, you own deer with top genetics, and we grow your herd for you in our breeding facilities.
We will raise and care for your deer until you are ready to move your already well-developed deer herd population to your own ranch or breeding facility.
Remember, time is money...and our herd builder program allows you to get a big jump start on building your dream herd fast!
Want the Specific Details of

Our Herd Builder Program...
Whitetail Deer of Texas' Herd Builder Program is designed to help our clients make informed decisions regarding raising deer for their ranch and/or breeding operation…decisions which will impact both present and future plans.  We will work with each client to establish a program which fits his/her specific needs.
The "herd builder" plan can be a short-term program to enable clients to purchase deer in a timely manner and house the deer at Whitetail Deer of Texas until your ranch, pens and/or facility are ready to accommodate your deer.
The "herd builder" plan can also be a long-term (multi-year) arrangement for individuals with high-fenced ranches that want to house their does in our pens year-round – including breeding and fawning at Whitetail Deer of Texas.  Such a plan would allow an individual to stock a ranch at weaning time with buck and/or doe fawns each fall.   This scenario would enable ranchers to move top genetic deer to their pastures on an annual basis without having the expense or work involved with building and operating pens on your property.
Whitetail Deer of Texas works with both the Texas Parks and Wildlife Department (TPWD) and the Texas Animal Health Commission (TAHC) for permitting purposes.  Through TPWD, we maintain our breeders permit and we currently hold a Transfer Class 2 (TC-2) status which allows us to move deer within the State of Texas to breeding pens or high-fenced release sites.  Hunter-harvest guidelines for testing a given percentage of harvested deer apply.
Our connection with TAHC is voluntary in working to obtain a CWD certified herd status.  The program operates with a minimum of five years of monitoring with TAHC and meeting specific guidelines of having only monitored deer in your pens.   Once full status is obtained ranches are classified as Transfer Class 1 (TC-1) and are permitted to move deer out-of-state, if desired.  Hunter-harvest guidelines of testing for CWD are no longer required.  Our anniversary date with TAHC is April 30th and we will be in Year 2 of the program in 2016.
Whitetail Deer of Texas will not accept deer into the Herd Builder program from other deer breeders as it could affect our status with TAHC and/or TPWD.  Clients participating in our Herd Builder Program will have the same status as Whitetail Deer of Texas.  
The room and board expenses for the Herd Builder Program run on a fiscal year calendar from January 1st to December 31st.  Expenses for animals purchased during the year will be prorated accordingly.  Our annual doe sale list is published in September and does can be purchased from September through March.  Breeder bucks may be purchased March through October.
Room and Board
Includes housing in a pen, 24/7 protein feed, water, hay, daily treats and supplements specific to the age and sex of deer in the pen
Includes vaccines and/or regular medications usual and customary to whitetail deer breeding; our does, fawns and yearling bucks are worked through our facility twice each year - spring and fall - for the purpose of vaccinating and worming
Annual inspection by herd veterinarian and/or TAHC personnel
Individuals with ten or more deer may have their deer housed in "their own separate pen."  Whitetail Deer of Texas may commingle "Herd Builder" deer with our herd as deemed necessary for breeding
Veterinary prescribed medications administered by Whitetail Deer of Texas personnel to treat sick deer are priced separately (shots range $2 to $15), if a deer is sedated and moved to the facility for intense treatment the costs for sedation and reversal is $50
CWD testing is required for any deer age 12 months or older that dies – cost for CWD testing through the local veterinarian is currently $95
 Breeding
Does may be purchased open, live bred or AI-ed
Live breeding fees start at $300
AI services are $500 plus semen costs
Whitetail Deer of Texas guarantees exposure to a buck and/or   AI procedure plus cover buck services; actual conception and birth of fawn(s) are not guaranteed
Fees
Does
Room and Board - $700 per year
Live breeding is dependent upon buck and starts at $300 per year
AI services are $500 plus semen costs
Fawns
Our newborn protocol for all fawns includes tagging, tattooing, DNA hair sample collection and administration of various meds to boost newborns survival rate
Bottle raising (if desired) - $850 per fawn plus milk
No additional room and board costs are incurred until fawns are weaned
Room and Board - $700 per fawn from weaning until December 31 the following year (15 months)
All preventive vaccines provided
DNA testing of fawns - $68 per fawn;  individuals who have a pen of their own for birthing (10 does minimum to 15 does maximum per pen) will only have the expense of DNA testing, if they wish.  Clients with less than 10 does will have their does commingled with our deer and the DNA testing will be required to verify parentage.
Transportation of fawns to the release ranch is $2.50 per loaded mile; the number of fawns that can be moved in one trailer load will be dependent upon the distance of the trip – short trips should be limited to 20 fawns per trip, long trips should be limited to 15 fawns per trip
Bucks
Room and Board - $800 per year
All deer housed at Whitetail Deer of Texas will be cared for and treated with the utmost attentiveness, as if the deer still belonged to us.  One of the most difficult parts of being in the deer business is mortality.  The loss of deer is something that we take very hard, but one must understand that deer deaths/losses are very much part of the business. When we first began in the deer business and experienced our first losses, we were told by a well-known deer veterinarian that people who could not handle losses (emotionally or financially) should not be in the deer business.  We never take a loss lightly; however, we must stress to all clients that while we do everything that we can to minimize losses - mortality in the deer business is an unfortunate given that comes at the costs of the owner.  Room and board costs for all deer, including losses, will be prorated accordingly.
We invite all individuals interested in the possibility of owning deer to visit our ranch and discuss possibilities which will best meet your personal needs.  Feel free to contact us!

Return from Herd Builder to Whitetail Deer of Texas home page