Semen - Available for AI Purposes
At Whitetail Deer of Texas we have typical bucks with lots of width - both coming and going ... and we have semen available from various bucks.

Texas Wrangler - Wide and Typical ... Coming


Texas Wrangler - Wide and Typical ... Going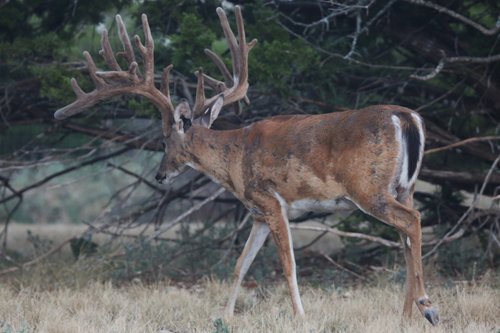 Semen available! If you are looking to improve the genetics of your deer, and if you are interested in width and typical mainframes...we have the semen you need and it is reasonably priced!
For AI purposes, our conventional semen straws can be split three ways depending on the advice offered by your AI specialist.  Our semen prices range in price from $300 to $1,500 per straw, based on the buck selected.
Additionally, we offer sexed semen - male or female.  The sexed semen straws are intended to be used as a whole straw per doe.  Female sexed semen starts at $150 per straw and our male sexed semen starts at $400 per straw.
Initially, our bucks were drawn by Bob Woodard from Champion Genetics prior to his retirement.  For the last several years, Dr. Dennis Gourley, of Elite Genetics, has conducted our semen draws.  Our sexed semen is processed by Sexing Technologies in Navasota, Texas.

We currently have conventional semen available from:
Texas Ainsworth
Texas Bodacious Select
Texas Racer
Texas Stetson 
Texas Trail Blazer 
The sexed semen which we have available was drawn from:
Texas Ainsworth
Texas Ranger 
Texas Wrangler
Please contact us to reserve semen for the coming year. We will be selling a limited number of straws in Texas this year.
Video Footage of Our Bucks
If you would like to see footage of some of our deer, the video below highlights a few of the bucks which we have at Whitetail Deer of Texas. This footage was taken July 2011.

Semen is available from some of these bucks