Deer Breeding - Do you want to raise some of the best deer in Texas?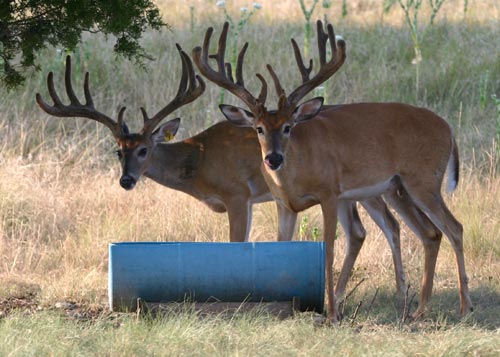 Grown on the Farm - Two Year Old Bucks - Legends and Legacy
As a TC1 - Transfer Category 1 deer breeding operation, Whitetail Deer of Texas is located in the northern end of the Texas Hill Country - 17 miles northwest of Gatesville.
Our scientific breeding program operates under permit number TX-2414 as issued through the Texas Parks and Wildlife Department.
The primary purpose of our operation is to help landowners improve the genetics of their deer - in either high-fenced or low-fenced ranch settings. We have created this website to answer questions, and to assist you in achieving your goal of raising top-notch deer for your ranch.
Whitetail Deer of Texas specializes in raising bucks and does with the very best genetics. Whatever your deer needs may be, we stand ready to help!
Services which we offer include:
Supplying top-notch foundation stock – brood bucks or does - for scientific whitetail deer breeders.
Improving genetics and management practices of existing whitetail herds by supplying breeding stock.
Offering boarding services to those who wish to move forward with improving the quality of their deer, but need a temporary or long-term home for your herd while you high-fence and/or purchase your ranch.
Providing consulting and management services for new breeders and ranch owners who wish to start a whitetail breeder program.
The foundation herd of Whitetail Deer of Texas is from the renowned Paco bloodline...Paco being the first Grand Champion Buck in Texas as selected by the Texas Deer Association in 1997.
Most recently through artificial insemination (A.I.), we have elected to add to our genetic pool through semen purchases from other distinguished Texas breeders including: Robert Williams of RW Trophy Ranch, Ben Mooring of 4M Whitetails and Henry Woodard of Woodard Whitetails.
Whitetail Deer of Texas is owned and operated by husband and wife, Jim Taylor and Judy Logan. As Texas deer breeders, we love to "talk deer" and we would welcome the opportunity of having you visit our facilities. Feel free to contact us.
Contact information:
Whitetail Deer of Texas
2082 CR 220
Gatesville, Texas 76528

Judy Logan and Jim Taylor
Telephone: (254) 865-8787
Whitetail Deer Farms - We can help you start your deer herd before you have high-fenced or even purchased your ranch!
Our breeder bucks for years past are pictured for your viewing!
Photos of bucks taken at Whitetail Deer of Texas.
Photos of does taken at Whitetail Deer of Texas.
Photos of fawns taken at Whitetail Deer of Texas.
Fawns - Are you interested in purchasing fawns and starting a deer herd?
Raising fawns...over sixty years ago, in 1950, at the age of three, Jim raised his first fawns.
Whitetail deer videos made throughout the year at Whitetail Deer of Texas.
Our new state-of-the-art deer facility is used to handle our deer when separating fawn, vaccinating the herd and artificially inseminating our does.
Want to work as an intern with whitetail deer? Each year we hire pre-veterinary or wildlife biologist students who need to complete an internship as part of their college course requirements.
Monitor buck growth at Whitetail Deer of Texas through photos and annual Boone and Crockett scores.
If you are looking for whitetail deer for sale to enhance the deer genetics of your ranch, we can help!
If you lease a buck you can bring great, new genetics into your deer herd through live breeding!
Semen available for IA purposes...if you are looking for width in your deer herd, we have got what you want!
Deer FAQs – To help you learn a little about raising whitetail deer.
Whitetail Deer of Texas is all about deer and family.
Whitetail Deer - Send us your comments. We want to make this site as relevant to your needs as we can.
View the individual pedigrees of our bucks and does.
Through deer advertisement, Whitetail Deer of Texas is pleased to promote our operation and support products that we have found to be beneficial to our deer business.
Interested in deer hunting! We can help you arrange the hunt of a life time - in either Central Texas or South Texas.
Facebook and You Tube feature a lot of extra photos taken at Whitetail Deer of Texas!
Here are some links to other deer related sites.